Congressional Art Competition
Congressional Art Competition
2018 competition at the Fitton Center for Creative Arts
The U.S. House of Representatives' Congressional Arts Caucus coordinates an annual art competition for high school students.  This competition provides a unique opportunity to recognize the rich artistic talents of high school students throughout the nation.  I am inviting students who reside in Ohio's 8th Congressional District, to participate in "An Artistic Discovery'" – the 2019 competition and national exhibit. 
My event features three categories (students may submit one piece per category): Photography, All Other Permissible Media, and Scenes from Ohio's 8th.  See entry forms, below.
This is a prestigious competition.  The winning artwork will represent the 8th District in Washington, D.C., by being displayed in the U.S. Capitol as part of a year-long exhibit.  The winning artist may receive free round-trip airfares for the national winners' reception in Washington, D.C., and be eligible for a scholarship from a prestigious arts and design college.  Other winners' pieces will be showcased at my Washington, DC, and district offices for the next year.
This year, the Springfield Museum of Art in Springfield, Ohio, will host the exhibit for our district.  The deadline for submissions will be April 16th and the winners will be announced at a special reception and awards ceremony at the Springfield Museum of Art on April 27th. 
Entry forms for 2019: 
Important Dates 2019.pdf
Competition Guidelines 2019.pdf
In-Take Information 2019.pdf
WD Student Release 2019.pdf
Artwork Labels 2019.pdf
2018 Winners
Grand Prize – Trey Small, Lakota West High School, "Skilled Hands at Work"
1st Place Photography – Isabelle Rottenberger, Lakota East High School, "Lost Innocence"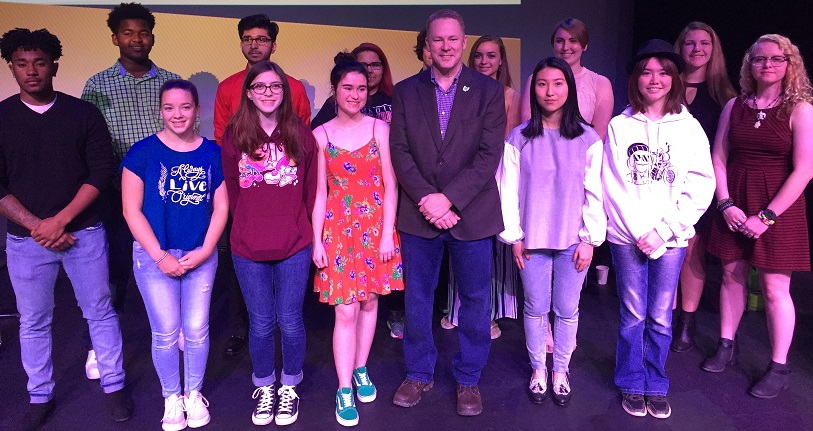 Rep. Warren Davidson with some of the 2018 winners at the Fitton Center reception.
2018 competition at the Fitton Center for Creative Arts