Congressional Art Competition
Congressional Art Competition
2019 competition at the Springfield Museum of Art
The U.S. House of Representatives' Congressional Arts Caucus coordinates an annual art competition for high school students.  This competition provides a unique opportunity to recognize the rich artistic talents of high school students throughout the nation.  I am inviting students who reside in Ohio's 8th Congressional District, to participate in "An Artistic Discovery'" – the 2020 competition and national exhibit. 
My event features three categories (students may submit one piece per category): Photography, All Other Permissible Media, and Scenes from Ohio's 8th.  Entry forms will be released in early 2020.
This is a prestigious competition.  The winning artwork will represent the 8th District in Washington, D.C., by being displayed in the U.S. Capitol as part of a year-long exhibit.  The winning artist may receive free round-trip airfares for the national winners' reception in Washington, D.C., and be eligible for a scholarship from a prestigious arts and design college.  Other winners' pieces will be showcased at my Washington, DC, and district offices for the next year.
In 2020, the Middletown Arts Center, in Middletown Ohio, will host the exhibit for our district.  The deadline for submissions will be March 24th and the winners will be announced at a special reception and awards ceremony at the Middletown Arts Center on April 4th.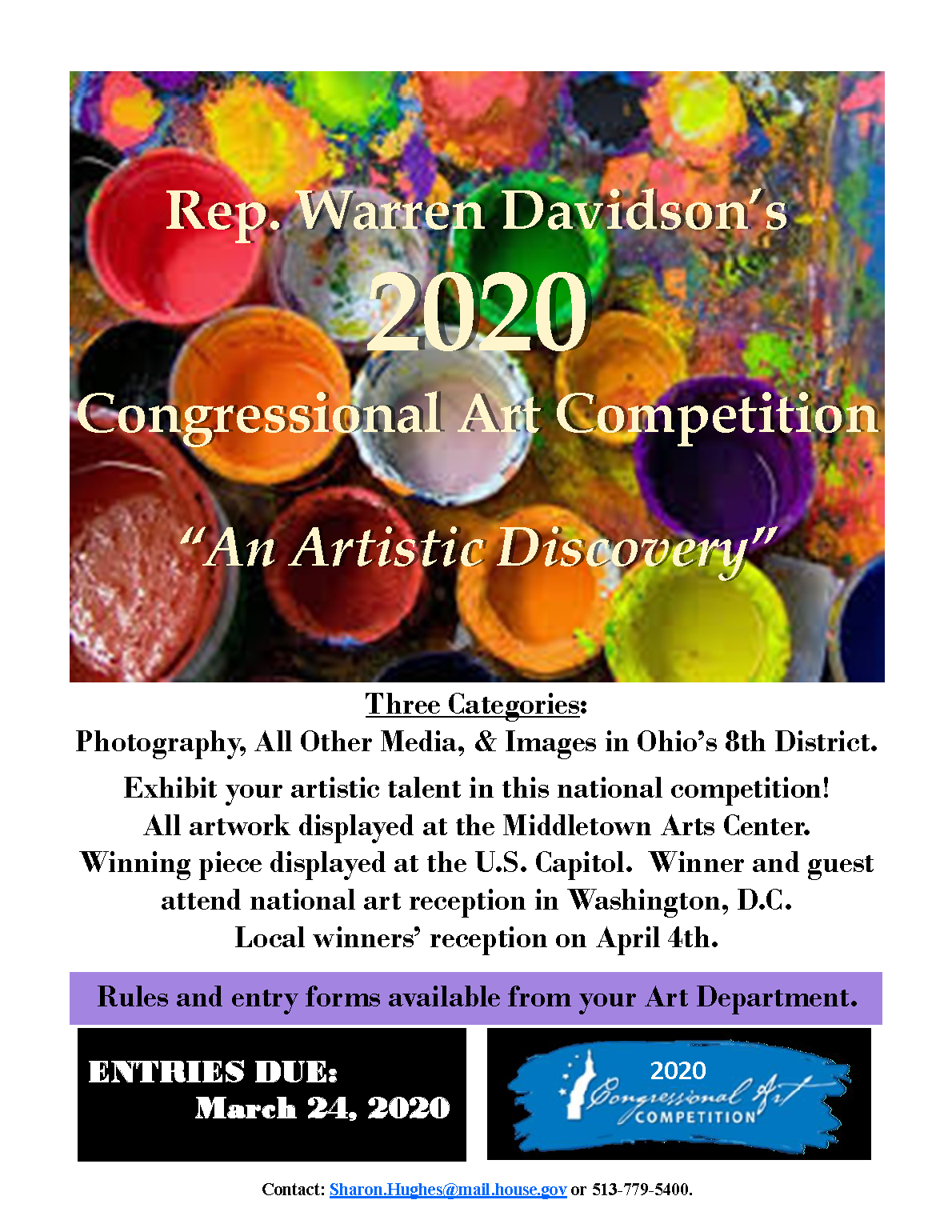 2019 competition at the Springfield Museum of Art
2019 WINNERS' LISTING
All Other Media
1st, Ryan Kmieske, Lakota East High School, 12th, "Portrait"
2nd, Alexandra Fernholz, Lakota East High School, 11th, "Life on the Road"
3rd, Elliott Gilardi, Lehman Catholic High School, 12th, "Self Portrait"
Honorable Mentions
Valerie Baker, Miami Valley CTC, 12th, "Miracle Man"
Reeghan Brown, Miami Valley CTC, 12th, "Muted Dream"
Ella Chaffee, Lakota West High School, 10th, "Produce Insomnia"
Allison Fisher, Butler Tech School of the Arts, 11th, "Scaredy Cat"
Anna French, Lakota East High School, 11th, "Donut Get Too Close"
Jenna Mauro, Lakota West High School, 12th, "Shelter Me"
Karol Perez, Lakota West High School, 12th, "Contemplating Sister"
Jasmine Sizemore, Butler Tech School of the Arts, 12th, "Real Heartache"
Trey Small, Lakota West High School, 12th, "Another One Gone"
Alyssa Tackett, Springfield High School, 11th, "Just the Beginning"
Linda Wang, Lakota West High School, 11th, "Sunflower"
Allyson Whittaker, Greenon High School, 12th, "Courageous"
Photography
1st, Chasie Williamson, Lakota West High School, 10th, "Empty White"
2nd, Sydney Peace, Lakota West High School, 12th, "Painted"
3rd, Katherine Newcombe, Lakota West High School, 11th, "Contemplation"
Honorable Mentions
Christina Daddario, Lakota West High School, 12th, "Pomegranate Seeds"
Jeanna Sharkey, Lakota West High School, 12th, "Curiosity"
Sydney Spata, Lakota West High School, 12th, "Dismal"
Scene's From Ohio's Eighth District
(original photos and photos of original artwork)
Hilary Ortega, Lakota West High School, 11th, "Muhlhauser Barn"
Terrance Owensby, Lakota West High School, 12th, "Butler Bucket's Eye"
Clay Perren, Lakota West High School, 10th, "Willow"
Sydney Spata, Lakota West High School, 12th, "Gloomy"
Olivia Weber, Lakota West High School, 10th, "Seating"
Elijah Willis, Lakota East High School, 10th, "Where the Sky Me
For more information, contact Sharon Hughes: 513-779-5400, Sharon.Hughes@mail.house.gov